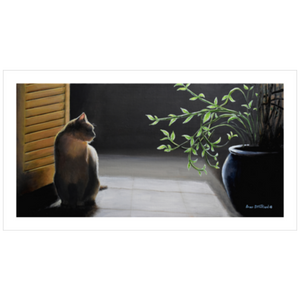 This beautiful Siamese cat is basking in the sun, perhaps reflecting on his day. Or maybe only wondering how much bigger is that plant going to grow. Either way, he is rescued from an abusive home that abandoned him. He is in his new permanent home and I think you would agree he's content. 
Only 20 of Evening Reflections will be printed in the original size of 10x20. So they are limited edition prints which will be signed and numbered by me before arriving to you. .  
My limited edition prints are numbered and signed by me after you order, along with a Certificate of Authenticity with my own personal pressed golden seal. In addition, I place a hologram serial number on the back of each print and place that serial on the Certificate of Authenticity.

The 10x5 size is open edition and will not be signed or numbered. 
My paper prints are professionally printed on premium giclée paper by one of the finest fine art printers in the country. Pigmented inks are used in this process so that these prints are archival and will last throughout the years. 
Note that each print has an additional 1" border around the outside so please take that into consideration when purchasing matting and framing.
Please allow me up to two weeks to assemble your order and ship.