"Hi and thank you for your interest in my art. I began drawing and painting as a child. My love of art has taken a front seat and with each stroke of my brush, my passion is driven onto canvas. I seek to inspire through the power of light and color and seek to bring out the soul of the subject in front of me." - Bruce Strickland
Art to the Rescue
Bruce's art work often focuses around rescued cats and dogs. He then places those animals in special settings, sometime real and sometimes imaginary. He could easily make up a cat or dog from imagination but he seeks to tell the stories of the rescues and allows them, for once in their lives, to take center stage and be the stars of his creations. ​He hopes you will allow them into your home as well, as beautiful pieces of art that will last a lifetime and with a beautiful true story as well. In the process you will help us save even more lives. 
See Bruce's latest work below...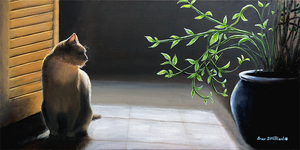 "Evening Reflections"
I would like to introduce my latest painting "Evening Reflections" to you. I captured this shot a while back and had been anticipating finishing the painting because of the message I think it projects. The sun was catching Mr. "D" perfectly one beautiful fall evening. It reminded me of how we use the evening to reflect back on our day or even our lives. It's a magical time of day where we can enjoy solitude, if only for a minute or two.

"Evening Reflections" stars a beautiful Siamese cat that is full of life. We'll call him Mr. "D", although that's not his name. He's not really in witness protection although he might look like it in this scene. We never knew what his previous owners named him. Mr. "D" watched his owners load the U-Haul one afternoon and drive off. Without him. Can you imagine how that would feel? Fortunately Mr. "D" had been eating at our back door for about a year, off and on, so he knew where to come for food.

It was sad to watch after his humans abandoned him. Mr. "D" would go back up the street to his house, which was empty and dark, and sit, waiting for them to come home. Eventually, after a few weeks, he gravitated to our back yard for most of his time, until we finally got him inside.

He had a lot of behavioral issues early on, it was obvious he had been abused. Fortunately he has proven himself trustworthy with the other cats. He will have a permanent home right where he is now. And he seems to be content with his new position in my latest painting "Evening Reflections".

There is more to his story that will be part of my new book of stories coming out soon. Details will be released at a later date.

The original painting is 10x20 oil on belgian linen. It will be available sometime later.
Prints and cards are available now. The card version of this painting is actually an inspirational card with very a short motivational message that will not overpower the print itself.

The 10x20 giclee paper prints are limited to just 20. They are signed and numbered by me. They will also include my signed and embossed certficate of authenicity.

The 10x20 stretched canvas prints are open edition.

The 5x10 giclee paper prints are open edition. The 5x10 also includes a white mat.

The cards are 5x7.

This is the second of my paintings that I have added a paw print to the right of my name. The paw print signifies awareness for cat and dog rescues. Many of you are already rescuers. We encourage everyone to find a place in their heart to rescue from a shelter and save a life - or two - or three.  
If you want to be notified when we add new items, please sign up at the bottom or top of this page, if you haven't already. When you join our mailing list you are automatically entered into the FREE card print drawing we have from time to time.  
Using his art to help those that can't help themselves
Bruce Strickland Art will give and has given a portion of profits to random animal shelters and animal abuse organizations. Donations are given even on the free print giveaways. Bruce and his wife, Maria have opened their home to dozens of stray and neglected cats and dogs over the past two decades. They are strong advocates of spay and neuter programs. When you purchase art from Bruce Strickland Art it's so much more, part of your purchase is going towards helping less fortunate animals than yours and ours. Bruce Strickland Art strives to give 5-10% of every sale to one of the approved donation centers listed in the link below.  
​See our approved donation list here.