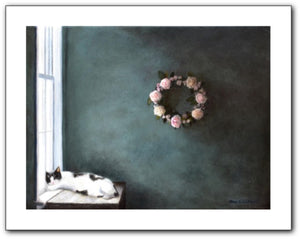 Alice was a kitten when she showed up in a driveway some time ago. She was taken in and she immediately fit right in with some of the older folk. Here she has found the most perfect of spots to catch the maximum amount of sunshine possible. She is truly enjoying her lazy summer day.  
My limited edition prints are numbered and signed by me after you order, along with a Certificate of Authenticity with my own personal pressed golden seal. In addition, I place a hologram serial number on the back of each print and place that serial on the Certificate of Authenticity. 
As customary, I sign the prints in pencil, number the print and write the name, all done just under the front side of the print in the matte area.
My paper prints are professionally printed on premium giclee paper by one of the finest fine art printers in the country. Pigmented inks are used in this process so that these prints are archival and will last throughout the years. 
Note that each print has an additional 1" border around the outside so please take that into consideration when purchasing matting and framing.
Please allow me up to two weeks to assemble your order and ship.